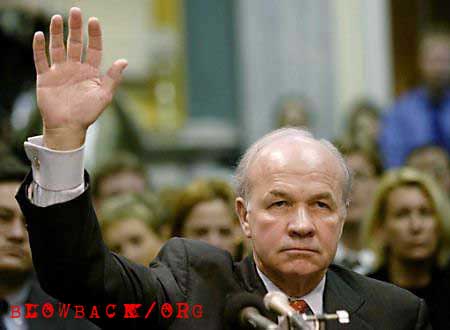 LIES CARD #1
Kenneth Lay, Former Enron Chairman/CEO

WEAPONS:

ACCOUNTANTS. PAPER SHREDDER. GREED. LIES.

INCREASED POWERS WHEN COMBINED WITH:

13. DICK CHENEY
16. GEORGE W. BUSH

KNOWN BATTLE MANUEVERS:

"Our 26 percent increase in [profits] shows the very strong results of our core wholesale and retail energy businesses and our natural gas pipelines." -- Press release, Oct. 16, 2001. (Three weeks later, Enron admitted that it had overstated earnings by $586 million since 1997.)
Business Week (.com)
From the Ken Lay B.S. File
By Steven Finch, March 2002
Executives rated Ken Lay least credible of the business figures in our survey. Perhaps it had something to do with statements like these:
"I have never felt better about the prospects for the company... Our performance has never been stronger; our business model has never been more robust; our growth has never been more certain."
-- E-mail to employees, Aug. 14, 2001
"There are absolutely no problems that had anything to do with (Former CEO Jeff Skilling's) departure. There are no accounting issues, no trading issues, no reserve issues, no previously unknown problem issues. The company is probably in the strongest and best shape that it has ever been in."
"There are no surprises. We did file our 10-Q [with the Securities & Exchange Commission] a few days ago [Aug. 14]. And, if there were any serious problems, they would be in there. If there's anything material and we're not reporting it, we'd be breaking the law. We don't break the law."
--Interview in Business Week, Aug. 24, 2001

FOLKLORE:

http://money.cnn.com/2004/02/19/news/companies/skilling/index.htm

http://www.time.com/time/2002/enron/players/