Archives
You are currently viewing archive for February 2013
If you're anywhere near Washington, D.C. this Sunday, February 17 join many of us as we rally for action on climate change. Please spread the word!
For more information:
Sierra Club.org: Forward on Climate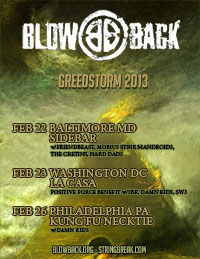 EAST COAST GREEDSTORM 2013
BLOWBACK returns! Our friends in Mobius Strip and Damn Kids will be joining in for a few shows this month. Don't miss it.
FEB 22 - BALTIMORE, MD - THE SIDEBAR
w/Friendbeast, Mobius Strip, Mandroids, The Cretins, Hard Dads
The Sidebar
218 E. Lexington St.
8PM - all ages
Facebook Event
FEB 23 - WASHINGTON, DC - LA CASA
Positive Force Benefit w/SBR, Damn Kids, SW3
La Casa
3166 Mount Pleasant St. NW
7PM - $5 min donation - all ages
Positive Force DC
Facebook Event
FEB 26 - PHILADELPHIA, PA - KUNG FU NECKTIE
w/Damn Kids
9PM Upstairs
Kung Fu Necktie
1250 North Front Street
Sidebar