07/17/12: BLOWBACK - Greed Runs the Clock 7" Out Now!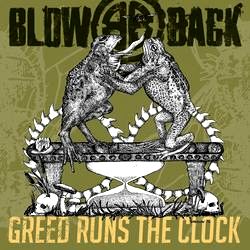 It's here! The new release from BLOWBACK.
Greed Runs the Clock
was recorded with Don Zientara (
Fugazi, Bad Brains
) behind the boards and mixed by Don Fury (
Quicksand, Agnostic Front
). This is actually the first time The Dons have worked on the same recording -- they more or less created the east coast hardcore sound, so we were thrilled to work with them.
Get the 7 inch and you'll have some killer green/gold splatter vinyl, liner notes and a download card too for high quality MP3s.
Thanks for supporting BLOWBACK over the years and we hope you enjoy the new music!
GET THE VINYL AT INTERPUNK:

Or, if you prefer it's also available in MP3 form on
CDBaby
,
iTunes
,
Amazon
and the other usual places.
TRACK LIST
1-Rats in the Middle
2-Greed Runs the Clock
3-Cassandra's Lament
4-Smoke Break
The artwork is courtesy of
Shadow
, an amazing Serbian artist, along with Rob Hanna of
Countdown to Amageddon
and
Aborted Society
.
We're also working on some shows on the east coast in the coming months, so stay tuned.